Weaving a Story of Love and Freedom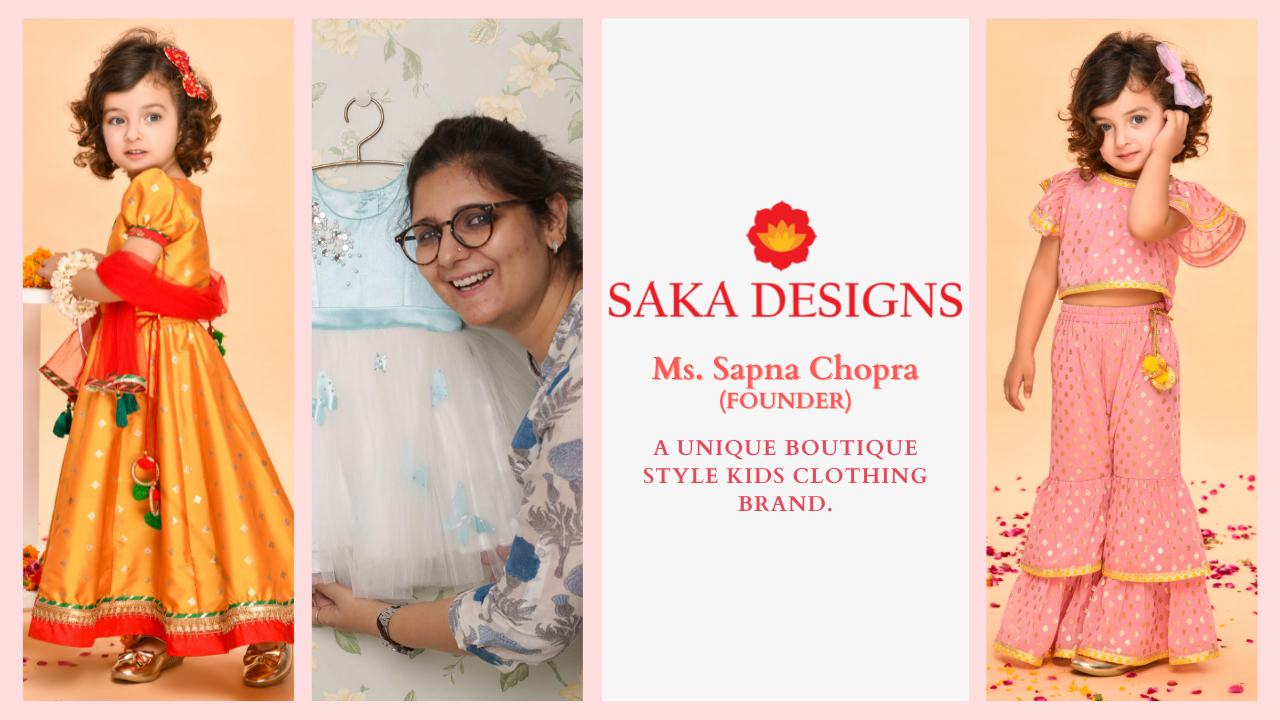 https://www.mid-day.com/brand-media/article/weaving-a-story-of-love-and-freedom-23218559
Motherhood can be daunting and to spearhead a business enterprise can be a fully packed experience. Born out of the universal desire of a mother to gift her daughter the freedom of clothing and luxury essentializing the traditional spirit, SAKA Designs started its journey in 2016. SAKA is a collaborative effort of Sapna Chopra and her sister Kanika, who came together to pay tribute to the legacy of Sapna's mother and to all women entrepreneurs who are rewriting their stories of empowerment.
SAKA exudes 'contemporary Indian luxury in Indian and Party Wear for Kids' at a budget-friendly price by focussing on designing Ethnic and Party outfits for children to make them feel beautiful and comfortable through the unique styling story. For the last five and a half years, SAKA Designs continues to operate through a profound care and detailed approach of a loving mother who designs for her own child.
For Sapna, one of her most fulfilling experiences and her ideation for SAKA Designs was inspired by her daughter which also awakened the joyous and creative vibes within her. Today Sapna harmonizes the role of a mother, homemaker, and entrepreneur by prioritizing her responsibilities and ensuring to keep a balance with humour as her armour.
The journey as an entrepreneur has not been an easy one for Sapna. She experienced her share of a curveball when Kanika exited the partnership for personal commitments and she was the sole person running the brand. Adding to it was the constant challenge to understand the varied mindset of the customers to create designs that are both appealing to the eyes and comfortable for a child to wear. As the brand started to build its niche in the market, the next challenge poured in the form of a deadly pandemic leading to challenges in procuring the right fabric, accessories from suppliers with whom she has been working all this while. The unprecedented lockdown also led to a phase of dormancy, since most of the work was not operational and some of the staff moved back to their hometown. However, Sapna and her team put in extra efforts and filled in more working hours with the staff at hand, and started working through e-commerce platforms which lead to its steady growth. Throughout her struggles, she believed that since this journey started from a place of love and intention to serve, the universe poured its abundant support and blessings, and SAKA Designs kept growing with immense trust and support from buyers and vendors alike. She experimented with more designs, extended her network to more e-commerce platforms, and developed a price range option to meet the customized and budget requirements of the market. This helped her cater to a wider audience and re-establish her brand identity and its uniqueness
Sapna truly believes that hard work never fails. In her words, "Never stop! If you are honest about your work then it will pay off one day. Keep striving and believing in this miracle".
The brand has just not overcame many challenges but has ensured that success is achieved through the honest workmanship of brand's designs. Since its inception, the brand has been consistently receiving love and support from platforms like Firtscry.com, Myntra, Mirraw, Aza Fashion and Pernia Pop Up Store. The reviews and ratings has once and for all proved that the brand is conscious of its quality and ensure designer outfits at affordable pricing. For this reason the brand has both designing and manufacturing unit under roof in the heart of New Delhi.
SAKA Designs does not believe in blooming in isolation and acknowledge the value of a community and its contribution. Hence, the team takes the ownership to welcome unskilled labor and train them into skilled craftsmen and designers. Along with it, Sapna also runs a unique socially-sustainable project where she encourages the women at SAKA Designs to create accessories like tassels, bows, and headbands from the leftover fabrics. Such practices have led to a win-win situation where there is zero wastage and ensures a sustainable practice of the brand. Additionally, there is an income for these women, which further empowers them financially and emotionally. As a home-grown brand, SAKA Designs truly symbolize the essence of 'Make In India' and 'Atmanirbhar Bharat.'
Lastly a message to the fellow and upcoming women entrepreneurs – ' It doesn't matter if you are an IITian or an IIM, if you are an engineer or a doctor, starting a tech based company or education based company, education ALONE can never guarantee success as much as persistence and patience to keep the vision alive. With one dream of yours , one can empower so many. With one vision, one can provide so many employment. Follow the heart rather than the trend and you will surely add more value not just in your life but also in the lives of many people around by nurturing a dream.